Superior Lawn Care and Seasonal Cleanups in Oshawa, Bowmanville, and Whitby, Ontario.
Ready to learn more?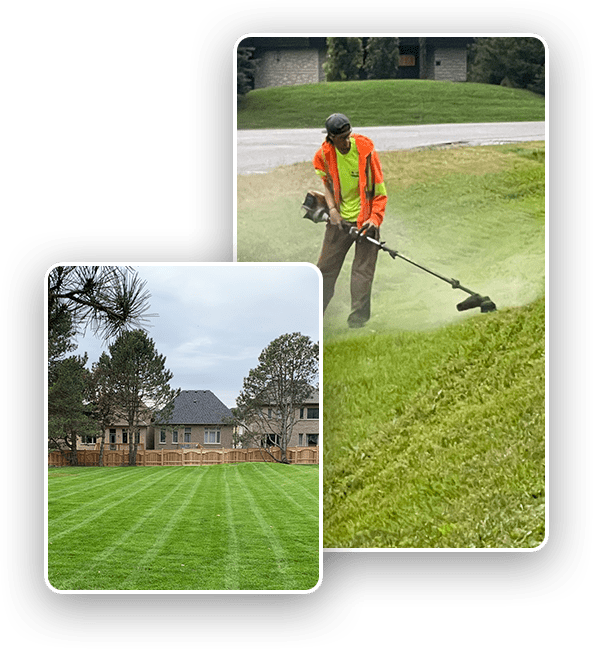 About Us
Who we are
Our company has been a family-run business built on honesty, integrity, and dedication to quality for over 40 years. We are wholly committed to doing our best work every time, taking pride in everything we do. We will continue helping those in residential and commercial areas!
Lawn Maintenance
Keeping your lawn maintained is an important part of keeping it neat, clean, and growing well. These maintenance jobs include trimming the grass and other crucial tasks.
Lawn Care
These services cater to the more in-depth health of your lawn, keeping them healthy from the inside out. Weed control and fertilizer are the biggest ways we achieve this goal.

Seasonal Cleanups
Landscape clutter is unavoidable – falling leaves alone can give it quite the messy look. We do cleanups (primarily in Spring and Fall) and complete the job by removing all the debris we clean up.

Snow & Ice Management
Snow and ice can be beautiful, but usually not for long and from a distance. We can aid you in keeping them under control and salt properly, so your landscape doesn't get hurt.
Garden Maintenance
Sometimes landscapes struggle even if the grass is green. Our flowerbeds need some help too. We know what it takes to make your whole garden shine.
Why Choose Us
What sets us apart
from the rest?
Quality customer service
We understand that you can only get so far with quality work – without good customer service, your company won't be living up to its full potential. We make sure our customers feel listened to and treated with respect.
Established for over 40 years
We once started from the bottom but have since worked our way to the top. Our company has been in operation for over 40 years, with many more years of experience ahead of us.
Honest with customers
Not everyone fully understands the ins and outs of lawn maintenance work, which is why they hire professionals, to begin with. We ensure all of our customers are well informed, and we stay honest with them about the process every step of the way.
We proudly
serve the residents of Bowmanville, Oshawa, and Whitby, Ontario!
Testimonials
What Clients Say
They provide prompt and very reliable lawn cutting services throughout the season.
John Drawbell
Happy Clients
We are extremely satisfied with the services the Mr. Trim Lawn & Garden Services are performing. They are highly recommended.
Ellen Parberry-Methot
Happy Clients
They did a great job trimming hedges and cleaning up my property. Everything looks amazing. Thank you.
Amanda Wood
Happy Clients
Very reliable, courteous & efficient. Always leaving our yard nicely mowed, trimmed & cleaned up. Good bunch of guys.
Alan Blue
Happy Clients
These guys are great they did a spring clean up on my property their attention to detail was amazing I can't wait till they start cutting my lawn.
Camille Jackson
Happy Clients